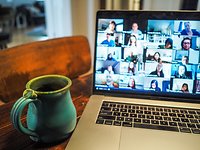 IPSS Forums
The IPSS Forum Committee organises for its members now four forums a year. Some of these forums are online, others take place at the premises of the Guild of Psychotherapists. IPSS also issues CPD certificates which are acknowledged by UKCP.
The topics are carefully selected in relation to Psychoanalytic Psychotherapy and Social Studies. Presenters of these forums are either IPSS members or invited speakers from the wider psychoanalytic community.
The forums are open to other psychotherapy organisations and interested psychotherapists, counsellors and trainees. You are warmly welcome.
Please get in touch if you want to promote or discuss a relevant topic or speaker with our Forum Committee Chair Helen Holmes, [email protected]
Next Forum:
Saturday 24th April 2021, 10.30am - 1pm (Zoom):
"The Unanalysed Race Complex" by Frank Lowe

Fees for attendance:
£10 for psychotherapy trainees and other mental health trainees
£20 for psychotherapists, psychiatrists, and other mental health professionals.
Free for IPSS members.

Please contact [email protected] to book your ticket.
Spaces are limited so early booking is essential.


This is a rare opportunity to attend this talk on developing, promoting an understanding and learning about Racism when practising Psychoanalytic Psychotherapy.

Frank Lowe is a prominent Psychoanalytic Psychotherapist at the Tavistock who has developed very important and crucial services at the Tavistock Clinic to help improve access to Psychotherapy for Black and Minority Ethnic young people.

He has written many papers and edited the book "Thinking Space. Promoting Thinking about Race, Culture and Diversity in Psychotherapy and Beyond.".

The Unanalysed Race Complex

Racism has played a major role in the development of western societies, and although there has been progress towards racial equality, it remains a repressed organising principle in our culture and forms an unconscious part of our psyches, identities and relationships. This paper contends that as a result of this history there exists within the psyche a complex about race that is usually hidden and largely unanalysed. Although psychotherapy has tools that can develop our understanding of this complex, psychotherapy has historically failed to think deeply about race and racism in the training of therapists.

Consequently, a therapy culture has been inherited, in which race within the psyche is a largely unthinkable subject and an unanalysed part of most therapist's minds. In this paper, I will draw on clinical material to illustrate the race complex and propose that our profession needs to create a non-judgemental environment where resistance towards thinking about race and racism in oneself is better worked with in order that understanding and practice regarding race can be improved in our therapeutic work.
_______________________________________
Sunday 4th July 2021:
Psychoanalytic and social perspectives on gender variance and sexual orientation.
_______________________________________
Saturday 6th November 2021: organised by the
Race and Culture Committee
_______________________________________
We are looking forward to meeting you there.
Forums in 2021
Saturday, 27th of February: Working in Emergency: Open Discussion


The recent years have challenged our capabilities and sensitivities somewhat through unprecedented times of Grenfell and the COVID pandemic. With the shock of emergency and trying to maintain necessary routines as psychoanalytic psychotherapists, we too have needed to manage our own traumatic reactions, alongside supporting others through a very difficult epoch, one limited in so many ways. These restrictions on social, professional and personal lives, means that spaces have needed to be shared and tolerated, alongside escalating domestic and intimate partner issues. Many of us have lost loved ones and hearing about the distressing number of deaths worldwide is upsetting.

As a close psychoanalytic community, our February forum offers a safe space to come together and share about our thoughts and feelings of working in an emergency time, to gain different perspectives, have the opportunity to express ourselves and to reflect on this extraordinary time. Please bring your responses and other experiences on 27th February, and we look forward to seeing you then.